Headquartered in Atlanta, GA, BACC-SE serves the following states: Georgia, South Carolina, Tennessee, Alabama, and Mississippi.
THE BRAZILIAN-AMERICAN CHAMBER OF COMMERCE OF THE SOUTHEAST (BACC-SE)
Under Ms. Lucia Jennings's leadership, the BACC-SE grew to become one of the most active bi-national chambers in Atlanta. Ms. Lucia Jennings was instrumental in bringing to Georgia foreign dignitaries including the former president of Brazil, The Honorable Fernando Henrique Cardoso, Brazilian Ambassadors and Ministers to speak at Chamber-organized events.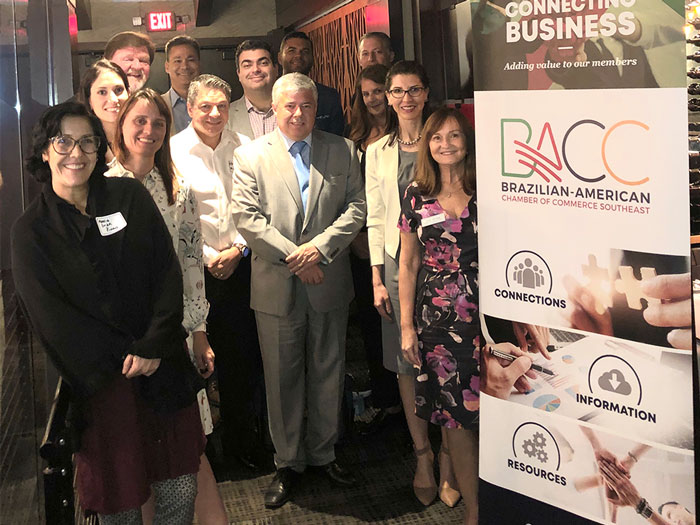 As a resident of Atlanta for more than 40 years, Ms. Lucia Jennings is very well acquainted with the International Business Community and how to seek access to government officials. She is the "go to person" for Brazilian and American entrepreneurs wishing to investigate business opportunities in both countries. From the entertainment industry to commodity trading, BACCE-SE can assist in projects at any phase or stage by providing valuable intelligence that will facilitate achieving absolute success.
In 2007, Atlanta Magazine named Ms. Lucia Jennings as one of the "World Class Fifty-Five Most Influential Foreign-Born Atlantans." Ms. Lucia Jennings has been featured in several publications, radio and television shows, as well as speaking engagements in the U.S. and Brazil. As a leader of the Brazilian Chamber of the Southeast, her advice has shaped the way Brazilian businesses do business in the Southeast.
On its 15th year in existence, BACC-SE received a Proclamation from Fulton County Commissioner; Dr. John H. Eaves for the outstanding job BACC-SE has done in creating jobs by guiding Brazilian companies expand their operations into the Atlanta area.
In addition to many key events, the Annual Brazil Economic Outlook in partnership with the Federal Reserve Bank of Atlanta is one that has been on every international business calendar. Several distinguished speakers and affluent economists have been part of the panel discussions.